Product description
The Gas Heating Module IS is a device designed to generate heat that fills rooms through a ventilation system. The heat in the module is generated during the combustion process of gas and transferred to ventilation air with the help of exhaust energy exchanger. The heating module can be used as a component of central air-conditioning ventilation installed in its section or as a free-standing component, mounted in the air intended for ventilation behind the central ventilation. The Heating Module is a compact device in the cuboid shape, which allows an easy assembly in the central ventilation section. If the central air flow is greater than the nominal flow in the Heating module, an optional by-pass system is used.
The heating module includes:
01. Heat exchanger
02. By-Pass sactuator
03. Burner
04. Chimney
05. Control cabinet
06. Condensate outlet
07. By-Pas system
08. Air Handling Unit
Condensing Heating Modules from the IS series generate heat from the combustion energy of natural gas or LPG. The generated heat is transferred to the air by means of gas heat exchanger.
Versions of the product
We offer two basic versions of the device:
01. Installed inside the air handling units as the unit's heating section: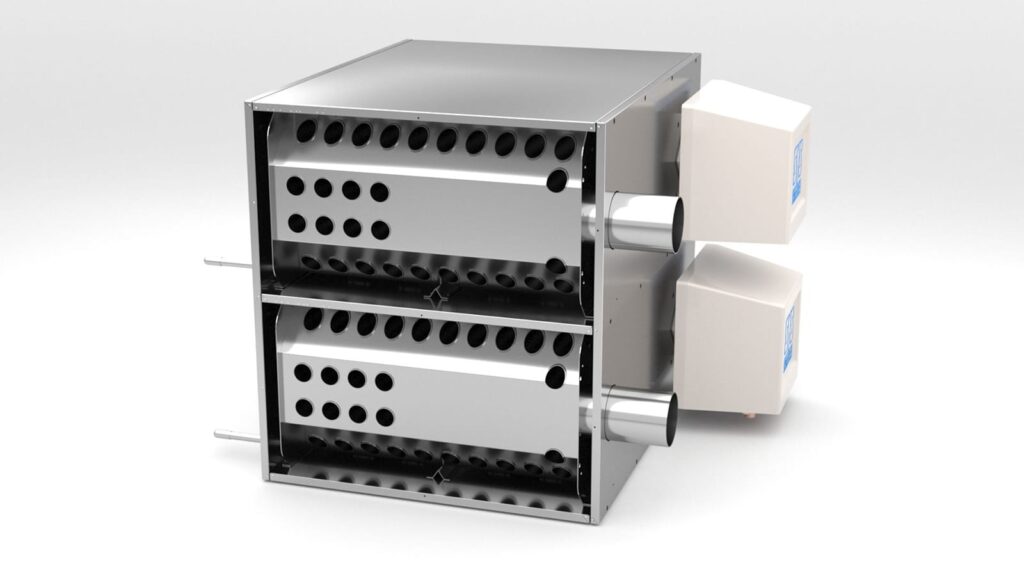 02. Autonomous modules for integration in the ventilation duct behind the air handling unit: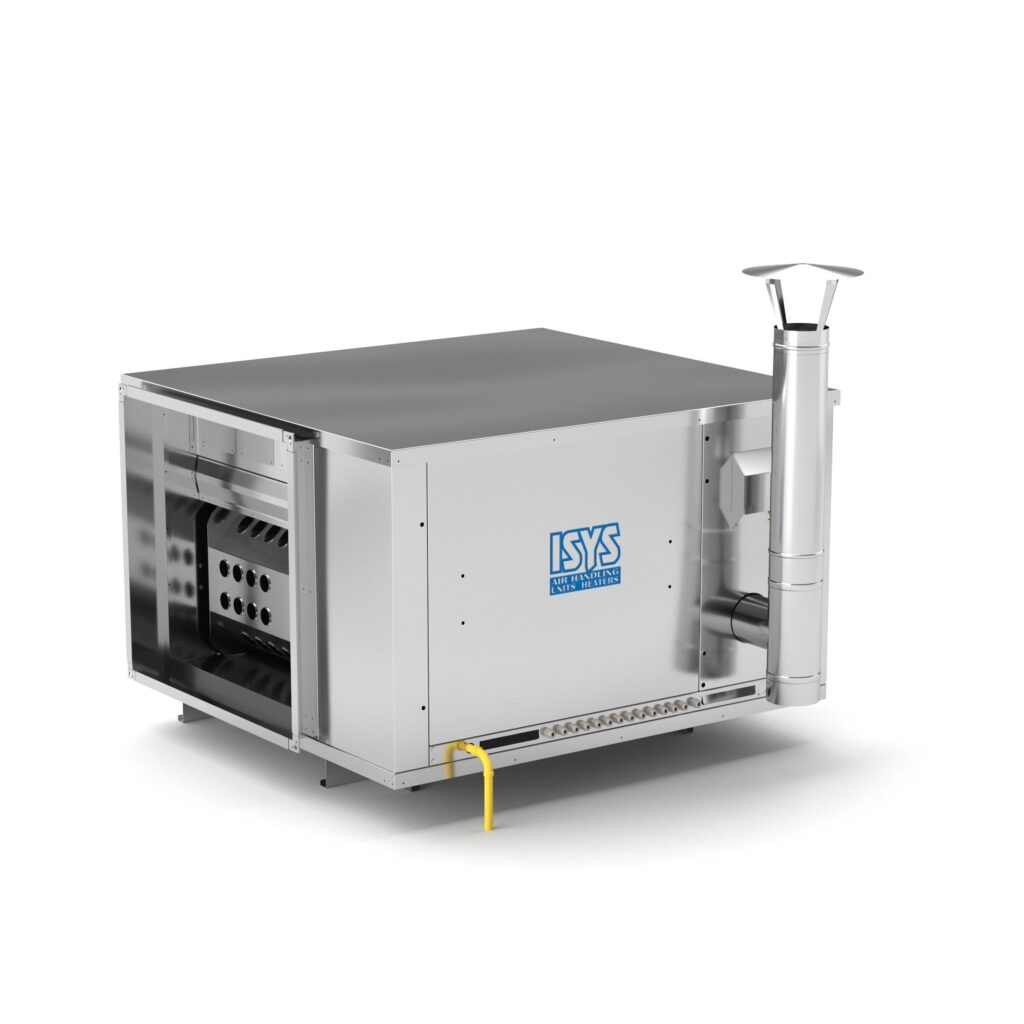 EACH GAS HEATING MODULE CONTAINS THE FOLLOWING SUB-ASSEMBLIES:
The automation of the system ensures that the device is ready to work immediately after connecting the gas line, 230 V power supply, START / STOP signal and 0-10 V power signal.
Details of the product
IS Gas heating modules can be used individually or in sets within one ventilation unit.
For higher power requirements, the IS modules' exchangers can be combined. All available devices can be equipped with accessories for starting, including: chimney system, condensate neutralizer and burner cover protecting it against weather conditions.
If it is necessary to use a bigger air flow than specified in the documentation of a particular model, we install a by-pass system that reduces air pressure drop of a module .
Each unit is equipped with integral overheat protection. In the event of a thermal hazard caused e.g. by turning on the AHU fan, the ISM Gas Heating Module automatically switches off the burner. The flue gas temperature is constantly monitored by the device controller, which allows detection of reduced air loads. In such situation the automation reduces the set power in order to prevent the burner from switching off and cooling the object. Such solution guarantees safety and enables to reach a 100% thermal comfort.

Technical data
Sizes
| | | | | | | | | | | |
| --- | --- | --- | --- | --- | --- | --- | --- | --- | --- | --- |
| | IS-010 | IS-015 | IS-020 | IS-025 | IS-030 | IS-040 | IS-050 | IS-060 | IS-070 | IS-080 |
| L [mm] | 1000 | 1000 | 1000 | 1040 | 1040 | 1040 | 1040 | 1040 | 1040 | 1040 |
| W [mm] | 700 | 700 | 700 | 865 | 865 | 865 | 865 | 865 | 865 | 1080 |
| H [mm] | 350 | 350 | 350 | 350 | 350 | 350 | 485 | 485 | 485 | 485 |
| H/2 [mm] | 175 | 175 | 175 | 175 | 175 | 175 | 242,5 | 242,5 | 242,5 | 242,5 |
| L_S [mm] | 140 | 140 | 140 | 140 | 140 | 140 | 100 | 100 | 100 | 100 |
| L_P [mm] | 830 | 830 | 830 | 870 | 870 | 870 | 855 | 855 | 855 | 855 |
| L_K [mm] | 116 | 116 | 116 | 116 | 116 | 116 | 140 | 140 | 140 | 140 |
| H_K [mm] | 45 | 45 | 45 | 45 | 45 | 45 | 45 | 45 | 45 | 45 |
| W_K/S [mm] | 140 | 140 | 140 | 140 | 140 | 140 | 140 | 140 | 140 | 140 |
| ØK [mm] | 20 | 20 | 20 | 20 | 20 | 20 | 20 | 20 | 20 | 20 |
| ØS [mm] | 80 | 80 | 80 | 80 | 80 | 80 | 130 | 130 | 130 | 130 |
| Mass [kg] | 110 | 110 | 110 | 140 | 140 | 140 | 190 | 190 | 190 | 205 |
| | | | | | | | | | | |
| | IS-090 | IS-100 | IS-120 | IS-130 | IS-150 | IS-170 | IS-200 | IS-250 | IS-300 | IS-350 |
| L [mm] | 1040 | 1040 | 1120 | 1120 | 1120 | 1120 | 1120 | 1250 | 1250 | 1250 |
| W [mm] | 1080 | 1080 | 1240 | 1240 | 1240 | 1390 | 1390 | 1760 | 1870 | 1870 |
| H [mm] | 485 | 485 | 615 | 615 | 615 | 750 | 750 | 940 | 1140 | 1140 |
| H/2 [mm] | 242,5 | 242,5 | 307,5 | 307,5 | 307,5 | 375 | 375 | 470 | 570 | 570 |
| L_S [mm] | 100 | 100 | 100 | 100 | 100 | 100 | 100 | 125 | 145 | 145 |
| L_P [mm] | 855 | 855 | 935 | 935 | 935 | 935 | 935 | 935 | 935 | 935 |
| L_K [mm] | 140 | 140 | 185 | 185 | 185 | 185 | 185 | 220 | 285 | 285 |
| H_K [mm] | 45 | 45 | 45 | 45 | 45 | 45 | 45 | 45 | 45 | 45 |
| W_K/S [mm] | 140 | 140 | 140 | 140 | 140 | 140 | 140 | 140 | 140 | 140 |
| ØK [mm] | 20 | 20 | 20 | 20 | 20 | 20 | 20 | 20 | 20 | 20 |
| ØS [mm] | 130 | 130 | 140 | 140 | 140 | 140 | 140 | 140 | 160 | 160 |
| Mass [kg] | 205 | 205 | 265 | 265 | 265 | 320 | 320 | 640 | 680 | 680 |

Power
| | | | | | | | | | | |
| --- | --- | --- | --- | --- | --- | --- | --- | --- | --- | --- |
| | IS-010 | IS-015 | IS-020 | IS-025 | IS-030 | IS-040 | IS-050 | IS-060 | IS-070 | IS-080 |
| Thermal power Hi [kW] | 10-2 | 15-02 | 20-2 | 25-2 | 35-3 | 40-4 | 50-5 | 60-6 | 70-7 | 80-8 |
| Air flow through the module [m3/h] | 745-150 | 1120-150 | 1500-150 | 1900-150 | 2650-265 | 3000-300 | 3750-375 | 4500-450 | 5250-525 | 6000-600 |
| Drop of pressure on the module [Pa] | 75 | 75 | 75 | 75 | 80 | 125 | 85 | 110 | 150 | 145 |
| Efficiency [%] | 95-105 | 95-105 | 95-105 | 95-105 | 95-105 | 95-105 | 95-105 | 95-105 | 95-105 | 95-105 |
| Condensate discharge [l/h] | 1,4 | 1,4 | 1,4 | 1,4 | 1,5 | 1,5 | 2,5 | 2,5 | 2,5 | 3,7 |
| Gas stub pipe extremalnie thread | G 3/4 | G 3/4 | G 3/4 | G 3/4 | G 3/4 | G 3/4 | G 3/4 | G 3/4 | G 3/4 | G 3/4 |
| Min gas pressure (G20) [mbar] | 20 | 20 | 20 | 20 | 20 | 20 | 20 | 20 | 20 | 20 |
| Min gas pressure (G31) [mbar] | 37 | 37 | 37 | 37 | 37 | 37 | 37 | 37 | 37 | 37 |
| Max gas pressure [mbar] | 60 | 60 | 60 | 60 | 60 | 60 | 60 | 60 | 60 | 60 |
| Max chimney length [m] | 6 | 6 | 6 | 6 | 6 | 6 | 6 | 6 | 6 | 6 |
| Power consumption [kW] | 0.3 | 0.3 | 0.3 | 0.3 | 0.3 | 0.3 | 0.4 | 0.4 | 0.4 | 0.4 |
| | | | | | | | | | | |
| --- | --- | --- | --- | --- | --- | --- | --- | --- | --- | --- |
| | IS-090 | IS-100 | IS-120 | IS-130 | IS-150 | IS-170 | IS-200 | IS-250 | IS-300 | IS-350 |
| Thermal power Hi [kW] | 90-9 | 110-11 | 120-12 | 130-13 | 150-15 | 170-17 | 200-20 | 250-25 | 300-30 | 350-35 |
| Air flow through the module [m3/h] | 6700-670 | 8580-820 | 9000-900 | 9700-970 | 11200-1120 | 12500-1250 | 15000-1500 | 19000-1900 | 22400-2240 | 26500-2650 |
| Drop of pressure on the module [Pa] | 180 | 235 | 230 | 240 | 250 | 230 | 250 | 250 | 250 | 250 |
| Efficiency [%] | 93-105 | 93-105 | 93-105 | 93-105 | 93-105 | 93-105 | 93-105 | 93-105 | 93-105 | 93-105 |
| Condensate discharge [l/h] | 3,7 | 3,7 | 5,5 | 5,5 | 5,5 | 6,9 | 6,9 | 7,5 | 8,5 | 10 |
| Gas stub pipe extremalnie thread | G 1 | G 1 | G 1 | G 1 | G 1 | G 1 | G 1 | G1 1/2 | G1 1/2 | G1 1/2 |
| Min gas pressure (G20) [mbar] | 20 | 20 | 20 | 20 | 20 | 20 | 20 | 60 | 60 | 60 |
| Min gas pressure (G31) [mbar] | 37 | 37 | 37 | 37 | 37 | 37 | 37 | 40 | 40 | 40 |
| Max gas pressure [mbar] | 60 | 100 | 100 | 100 | 100 | 100 | 100 | 100 | 100 | 100 |
| Max chimney length [m] | 6 | 6 | 6 | 6 | 6 | 5 | 5 | 4 | 4 | 4 |
| Power consumption [kW] | 0,4 | 0,4 | 0,4 | 0,4 | 0,4 | 0,5 | 0,5 | 0,5 | 0,5 | 0,5 |